Get involved
If it wasn't for you, PA Housing wouldn't exist. It's that simple, so we need to make sure we're always doing things that are right for you and where you live.
That's why getting involved is so important!
Resident Involvement means helping to make a difference in your neighbourhood. It could be helping to review one of our existing services, speaking up about an issue (or helping others find their voice!) as well as helping to hold us to account and make sure we meet the highest standards you all deserve. It's also a great way of gaining some new skills and making some new friends!


How to get involved?
We're currently updating these pages with all of the different ways you can get involved, and some examples of the great work which has been achieved by residents so far.
In the mean time, the first step is to contact us to find out more!
Simply give us a call on 0300 123 2221 or send us an email using the button below.
What is the Community Fund?
PA Housing has an established Community Fund for residents. The money comes from the savings made by PA Housing over the last year. We allocate a total of £25,000 each year to successful Community Fund bids made by residents – this is 24,000 homes spanning the UK. 
Who can apply for the Community Fund?
Residents present their case and gain support from neighbours and locals in the community. Any resident can put forward an idea. We will also consider accepting applications for project funding from other groups that will directly benefit local PA Housing residents.  Applications will also be accepted from staff who have an idea to improve the quality of life within a community.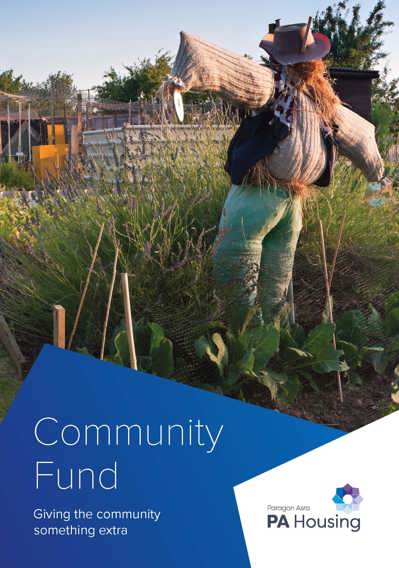 What kinds of projects have been funded?
The Community Fund grants can be used to fund projects, events or the purchase of equipment, such as:
Environmental improvements for a courtyard to become a relaxing space with picnic benches, raised flower beds and rotational washing lines.
A secluded outside seating area with flowers.
Support for a befriending service for residents who have little contact from family and friends at independent living schemes.
Tree planting at preschools and allotments.
Social Committee, Resident Association and Tenant Group community activities.
A one off donation as part of raising money for charity.
A resident running a community café and growing vegetables at an allotment to support a cooking and growing club.

We can't wait to have you involved!