Work with us
We're so excited that you're interested in working at PA Housing.
We work hard to create a friendly and supportive working environment to ensure that we attract and retain talent at all levels. We are an inclusive employer that sees opportunities rather than barriers when it comes to employing new colleagues with a varied skill set, talent base and background. We actively look to attract, interview and hire with diversity in mind.

Our excellent customer service is founded on our exceptional workforce. We have high expectations but we also want to offer the best to our colleagues.  We value our staff greatly and invest heavily in staff development to unleash existing skills and acquire new ones as they progress. The PA Way ethos ensures that colleagues' ideas and opinions are gathered, considered and implemented where they meet our values of 'Always doing the right thing', 'There when you need us' and 'We never give up'.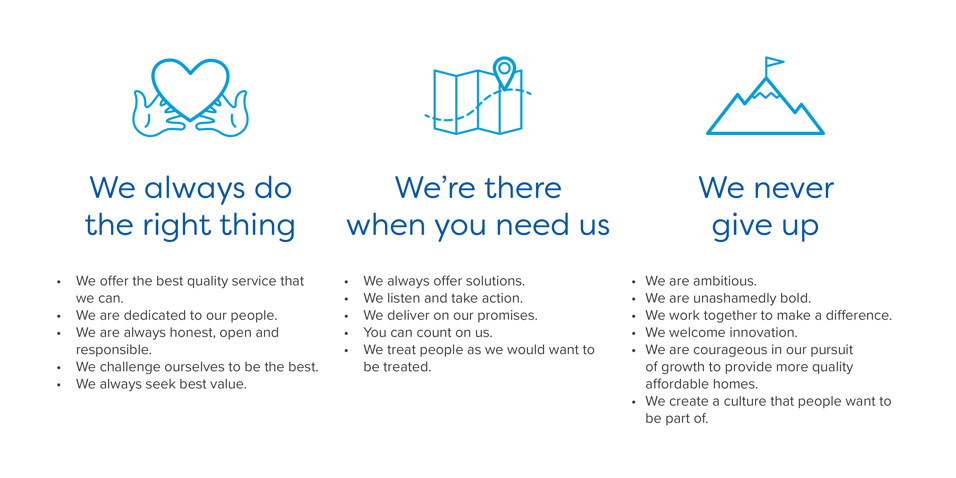 We hope we have the right role for you. Why not check our current vacancies to find out. 

Our people  

PA Housing isn't just about property; it's about people and community.  Whatever part you play in our diverse workforce, you will know that you are helping make our customers' lives better, whether that is improving their wellbeing, making their neighbourhood safe and attractive, or offering advice and support. You'll be working with other people who care and are determined to make a change, and you'll go home sure that you've made a difference.
We have more than 600 employees in a huge range of roles. Our key locations are Leicester, London and Walton-on-Thames, but we have a number of smaller satellite offices and schemes across the Midlands, London, Home Counties and the South East. 
Our recruitment process 
We provide a high standard of service so we need the right candidates who will be as committed to our customers' welfare as we are.
Our decision to employ someone is based entirely on an assessment of qualifications, experience, skills and attitude.  You will never be judged on race, colour, nationality, national origin, ethnic origin, religion, age, gender, sexual orientation, marital status, disability, perceived gender or any other factor that cannot be justified in the requirements for a post.
Anyone with a disability will be welcomed providing you meet the minimum criteria outlined in the job description and person specification. If you can't complete the online application form, let us know and we'll find an alternative method. We are here to help.
Respecting Difference
All information in relation to Equal Opportunities and Diversity will be detached from your application before the interview. The Interviewing Panel will not be given this information, and it will not be taken into consideration for recruitment decisions.
You can find out more in our Equality, Diversity and Inclusion policy