About us
We provide housing across the Midlands, London and the South East offering a range of housing solutions from affordable rent and independent living to shared ownership and outright sale for those in need.
With over 40 years of experience, we manage over 23,000 homes across our regions.
Our Purpose
Passionate about delivering more affordable homes and great services.


Our Vision
Become widely recognised as a social enterprise with a reputation for providing quality homes and services within the next 5 years. 

Our Values
Always do the right thing

We offer the best quality service that we can
We are dedicated to our people
Always honest, open and responsible
We challenge ourselves to be the best
Always seek

 

best

 

value

There when you need us

We always offer solutions
We listen and take action
We deliver on our promises
You can count on us
We treat people as we would want to be treated

We never give up

We are ambitious
Unashamedly bold
We work together to make a difference
We welcome innovation
Courageous in our pursuit of growth to provide more quality affordable homes
We create a culture that people want to be part of   
Corporate Plan 2017 - 2022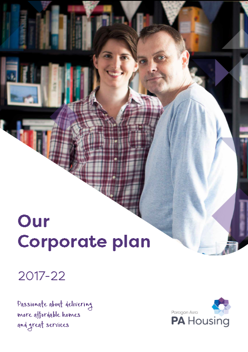 Please also take a minute to view our corporate plan that sets out our commitments, priorities and ambitions for the first five years of our new organisation.                         
Our Board is adamant that affordable housing is central to our future and that our focus is on providing services to our residents, whilst continuing to develop new homes.


PA Housing is about much more than just bricks and mortar. We intend to continue to focus on the wellbeing of the people we serve and to help our neighbourhoods thrive.
We have the potential to achieve brilliant things in the next five years. And we're under no illusion that there is much to do to harmonise our structures and ways of working. But, in doing so we will unlock the benefits which PA Housing can bring – to our customers, our employees and in the wider community. 
Click here to read Our Corporate Plan
PA Housing's Modern Slavery Act Transparency Statement
This statement has been prepared as part of the transparency requirements of section 54 of the Modern Slavery Act 2015.
Equality, Diversity & Inclusion
PA Housing is committed to promoting equality, diversity, inclusion, and a culture that actively values difference. We maintain over 23,000 homes in highly diverse communities and are determined to respect and provide for all our residents. We encourage the widest range of customers to become involved in shaping our services.