Who we are
We are a registered provider of social housing offering more than 23,000 homes across the Midlands, London and the South East with a range of housing solutions from affordable rent and independent living to shared ownership and outright sale for those in need.
Our purpose
PA Housing is passionate about delivering more affordable homes and great services.
Our vision
PA Housing has an ambition to become widely recognised as a social enterprise with a reputation for providing quality homes and services
Our values
Our values are important and underpin everything we do and our culture and behaviours define how we do things: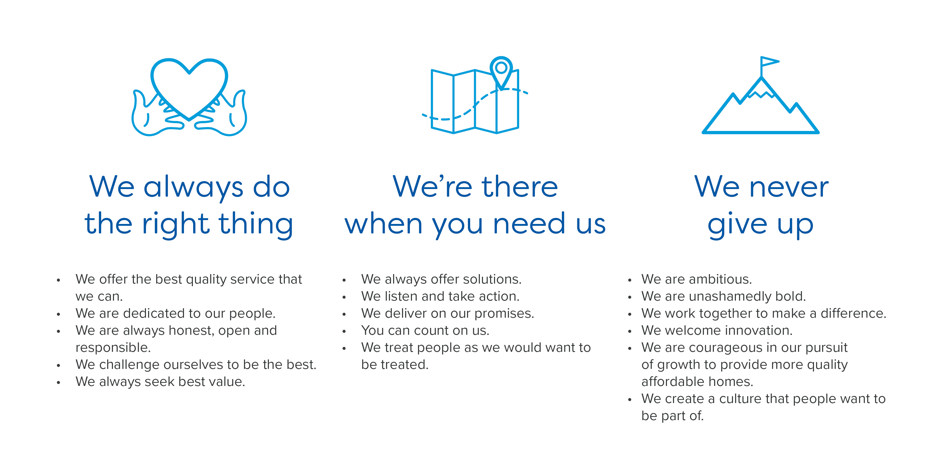 Our strategic objectives

Our approach is underpinned by three clear objectives.
We will continue to focus on customer services to improve customer satisfaction.
We will harmonise our culture and structures and improve our effectiveness.
We will grow to provide more homes and will rationalise our stock holdings.

Our goals
PA Housing is about much more than just bricks and mortar. We intend to continue to focus on the wellbeing of the people we serve and to help our neighbourhoods thrive.
To provide a consistent and high standard of customer service.
To provide safe and pleasant neighbourhoods where people have pride in their homes and surroundings.
To raise our profile nationally and at a local level.
To deliver our value for money strategy so that we build at least 500 new homes a year.
To rationalise our assets in order to create more new homes and provide better services.
To ensure high service levels to all tenures and at all stages in the customer life cycle.