Equality, diversity and inclusion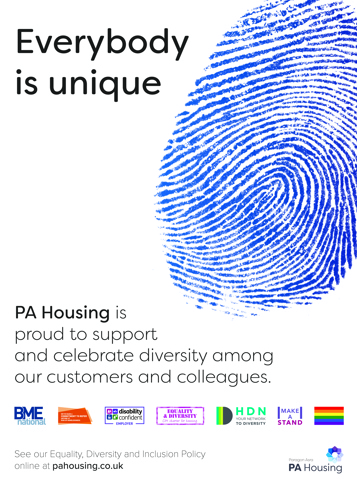 Everybody is unique, and we're committed to promoting diversity, inclusion, and a culture that actively values difference. This commitment is promoted by our Board and applies to all customers, employees and other stakeholders, such as contractors, volunteers and partners. We believe that everyone is entitled to respect and dignity and we are committed to building an environment where our employees, customers, contractors and visitors are treated in this way.
What makes you unique?
We know that diversity and inclusion are fundamental to the effective delivery of our services and we are working to embed diversity and inclusion across all our business functions by focusing on understanding and addressing the needs of all our customers and staff.
Our Equality, Diversity and Inclusion Policy was drawn up following consultation with customers and staff and goes far beyond the requirement of the Equality Act. It is monitored by our proactive staff Equality and Diversity advisory group.  

An award winning approach
​In 2020 our Equality, Diversity and Inclusivity Advisory Group was named 'Equality, Diversity and Inclusion Team of Year' at the prestigious Housing Heroes Awards.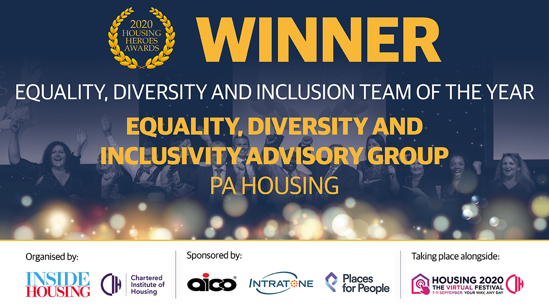 The EDI Group, which now has 23 members from across the organisation, originally came together to review and renew policies and procedures relating to equality, diversity and inclusivity. To begin with, the team focused on cultural and religious sensitivities within PA's communities; for example, ensuring repairs colleagues understood Islamic hygiene, and the reasons why running water in bathrooms is so important for Muslim households.
However, since 2020, it has expanded its own remit, and is now at the forefront of ensuring PA delivers its strategic commitment to serving all staff members and residents, whatever their age, gender, sexual orientation, disability, marital status, religion or race.
The group's members are drawn from different locations, departments, levels of seniority, but have a shared commitment to achieving complete inclusivity, delivering trailblazing initiatives that guarantee every colleague and resident knows they are valued.
In addition to their day jobs, each member takes personal responsibility for an area of the Housing Diversity Network's self-assessment criteria.