The latest edition of doorstep is out now!
2022 - February, Our news
We're pleased to bring you another bumper edition of doorstep, your customer magazine.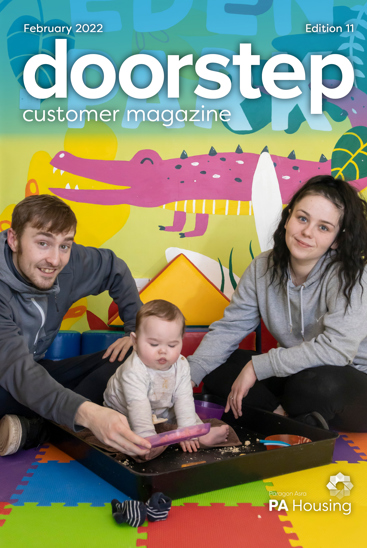 It's packed full of good news stories from around our regions including the amazing vision of Rosie Rhodes and her work to create a memorial garden for her father who passed away, information about how we're working hard to do better for you and of course our cover stars from Eden Park in Corby, our scheme for young families who need additional support.

The drive for net-zero
The Comms Team are continuing to focus on sustainability within the team, so in addition to significantly reducing our printing budget for 2022-23 and banning any plastic PA Housing merchandise, we've worked closely with our printers to ensure the printed version of doorstep is as sustainable as it can be.

This will also be the final mass printed version of doorstep we produce. Instead we're asking you to opt-in to receive further publications and let us know if you'd prefer either a printed or digital copy of the magazine moving forward. This not only helps with our goals to reduce unneeded print runs, it also helps with our value for money efforts to ensure only those customers who want to receive the magazine do so.
Let us know your preference by emailing us at [email protected].
We hope you enjoy reading, and if you have any suggestions on what you'd like see in future editions, or if you'd like to be featured yourself, please get in touch!