Joan at TPAS
2019 - July, Latest news
PA Housing involved resident Joan Swift spoke as part of a debate at this year's TPAS national tenant conference.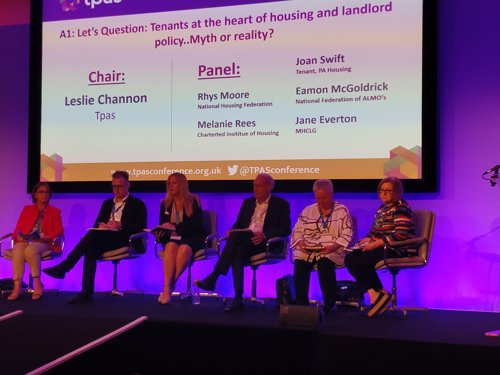 She was invited to join a wide ranging panel discussion on whether tenants have any impact on landlord housing policy. Joan chairs the Resident Council at Case House and is a very active resident involved in all aspects of PA Housing's services. She was joined on the panel by representatives from the Chartered Institute of Housing, Ministry of Housing, Communities and Local Government, National Housing Federation and National Federation of ALMOs (Arm's-length management organisations).
The discussion centred around the aftermath of Grenfell and what kind of regulation was likely to come forward regarding consumer standards. There was a lot of support in the room for better regulation as many residents felt let down by the way landlords had responded to the rent cut of the last few years.
Joan talked about the work that she and others do at PA – and the opportunities that this brings. She was very honest that not everything is perfect – but that we are on a journey and at least she felt listened to. She also issued a challenge to all landlords to encourage their residents to take the opportunities that are out there for better involvement.
This was her first time on a major panel and she more than held her own with the staff along side her. As a result of this work – Joan hopes to invite the CIH to a future Resident Council.