PA launches new Corporate Plan
2020 - September, Latest news
PA Housing has launched its new Corporate Plan, outlining its objectives for the next three years (2020-2023).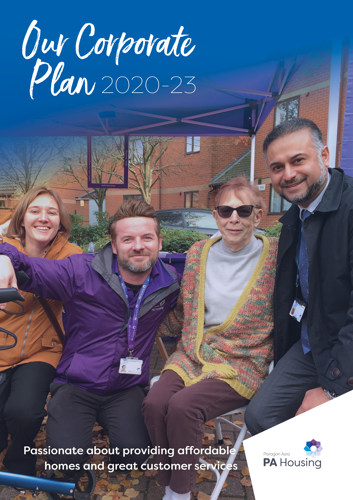 The plan focuses on six overarching aims, which have been developed in response to feedback from our customers and colleagues:
To provide great services to customers
To build and maintain positive relationships in our neighbourhoods
To implement our sustainability strategy to deliver net zero-carbon before 2050
To increase our construction of affordable and social homes
To maximise our capacity to deliver
To empower our people

PA Housing is committed to working together with our stakeholders to make a difference to our customers and communities.
We are dedicated to finding innovative ways to involve our residents, while empowering our people to be unashamedly bold, doing whatever it takes to deliver more quality homes and services we can all be proud of.
Hattie Llewelyn-Davies, Chair of PA Housing, said:
We will all face many challenges in the coming months and years as we recover from the pandemic. At PA Housing we are determined to seek out opportunities and deliver great things over the life of this Corporate Plan and beyond. We have the responsibility and the potential to make a profound positive impact on people's lives and we will do everything we can to make this a reality."

If you are a PA Housing customer who would like to help us to deliver our objectives, please contact us at getinvolved@pahousing.co.uk