PA shortlisted for Inclusivity and Diversity Pioneer of the Year
2020 - January, Latest news
PA Housing has been shortlisted for Inclusivity and Diversity Pioneer of the Year at the UK Housing Awards 2020, in recognition of the fact it goes the "extra mile" to create a culture of respect and acceptance.
Known as the most prestigious awards in the housing sector, the UKHAs are organised by Inside Housing and the Chartered Institute of Housing to celebrate the very best work being done by social landlords across the UK.
With more than 23,000 homes, PA Housing was formed in 2017 as the result of the amalgamation of Paragon and asra, a BME association founded to provide homes for Asian older people.
While we are extremely proud of our BME heritage, we are not content with simply celebrating the past, and we strive for complete inclusivity, delivering trailblazing initiatives that ensure every colleague and resident knows they are valued.
For example, in February last year, we launched our "Everybody is unique" campaign. Starting life as a poster designed for LGBT History Month, the slogan and its accompanying finger print logo caught team members' imaginations.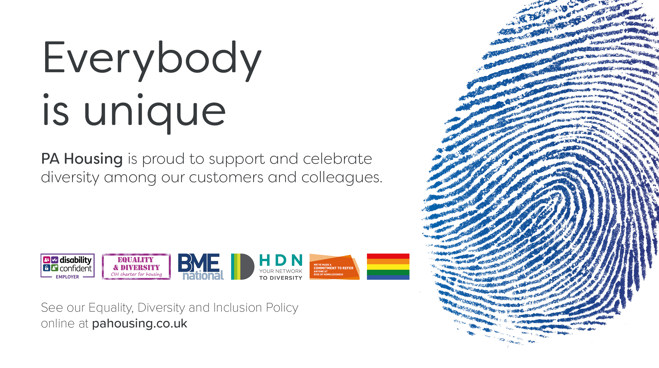 Members of our communities can now find us wearing t-shirts stating "Everybody is unique" when representing PA Housing at Pride events.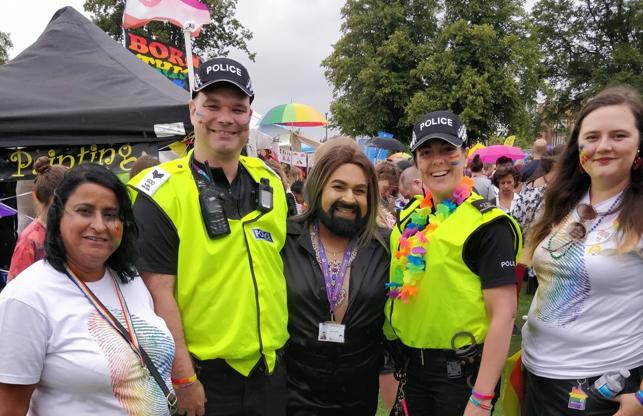 Our residents and staff members will also be familiar with the posters featuring the fingerprint, proudly displayed in the lobbies of our offices.
"PA provides services without seeing disability, race or sexuality," sums up Kim Francis, Chair of our Resident Forum. "It's nice to work with an organisation that sees everybody for who they are as a person."


The UKHAs take place at the Grosvenor Hotel in London on Thursday 7th May. We wish everybody at PA, our tenants and colleagues, the very best of luck ­– this one is for each and every one of us.