Fire safety at home
2019 - October, Latest news
Fire in the home is always a frightening, distressing and potentially fatal experience.  It's important to know the risks so you can take care to avoid them.
Latest figures from the Home Office show fire and rescue services attended 182,825 fires in England last year, of which 29,570 were in houses and apartments.  There were 253 deaths as a result of fires.
We install detection systems designed to suit all our different properties and to cater for everyone. If you have particular needs, such as being unable to hear alarms or having mobility challenges, we will work with you to devise a Personal Emergency Evacuation Plan (PEEP) if possible.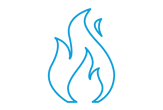 Your priority, if there is a fire, is to stay safe. If you can smell smoke, hear or see a fire, or feel its heat, leave the building immediately if you can. Shut doors behind you and call 999 as soon as you are safe.  If you cannot leave or think it would be unsafe, call 999.
Our specially trained advisors carry out regular fire risk assessments to ensure our preventive and protective measures are the best they can be. We update our provision and policies in line with the latest advice from the government and emergency services.

Fire and Safety Advisor Michael Wright said: 
We want you to be happy and safe at home, so PA Housing does all it can to protect you and your property from fire. You can be sure that prevention and protection measures we provide meet the highest standards, but there are also many things you can do to look after yourself.