Students get creative at Eden Park, Corby
2019 - May, Latest news
Two students from Loughborough University, Lauren Jefferis and Olivia Collins, armed themselves with their paintbrushes and headed down to Eden Park in Corby last week, to decorate the walls with a colourful mural.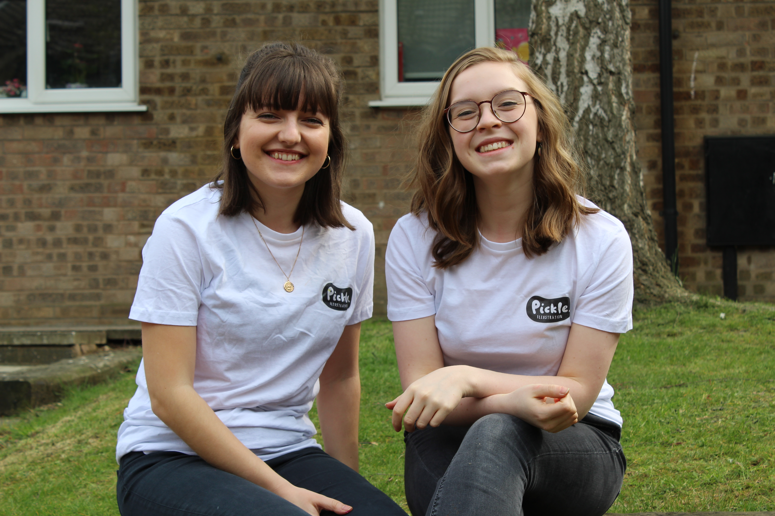 Olivia, a third year Graphic Communication and Illustration student, and Lauren, who is on an enterprise year working as a freelance illustrator, have come together to form Pickle Illustration. PA Housing approached Pickle to create some unique art work for our scheme, and it wasn't long before work was underway. The project was mutually beneficial; Eden Park's clients will benefit from the installation, while it will form part of the duo's portfolio and university show.
Eden Park is a very unique scheme, both for PA Housing and in its area. The centre houses and supports young parents; often helping them into work, education and their own accommodation. There's a play group for the children with regular activities. It's here, and in the common area in the main building, that Pickle Illustration have created their jungle mural.
We headed to Eden Park to interview Lauren and Olivia.
How did the project come about?
We knew we wanted to work together; illustration is often seen as quite a solo thing, so we wanted to try and make it something we could do together. We made a lot of connections through the enterprise year [at the university], so we got some information and used our connections, then we thought of the name and then just got going! I thought this project could be quite a good way of doing some volunteering, helping the scheme and hopefully getting us a bit of exposure as well. It benefitted everyone and it sounded quite fun as well! We've never done a mural before and we'd like to do more in the future, so we thought this would be a good way to get started.
Why is volunteering important to you?
I think we always wanted to do something that made illustration a bit more accessible and a bit community led. We want to help people break into illustration and inspire people that have had the same problems that we have in getting into the industry. So we decided to keep it quite community based; do a few volunteer projects and build some connections. We definitely want our business to grow by word of mouth, and it's nice to help other people. Plus the clients here are quite similar in age to us. Have you met many of the clients and the kids? Not yet, we've seen them around. There was one girl that came and told us that she liked what we were doing. We were so pleased!​
Can you tell us about the process itself?
We've never done this sort of thing as a pair before, but actually it was really helpful. We split it; one of us did the monkey and the other did the crocodile, and while one of us was drawing on the computer, the other might say 'oh, try this'. It's a really helpful way of working and it probably makes a better design. Then we projected it onto the wall, traced around it and painted it, and then if anything needed to be done freehand, we just did it freehand – sometimes it's easier.
How long does the computer/design element take?
We did it intensely! We dedicated two full days and sat at the kitchen table and just did it in those days. We did a bit of refining after!

Will this form part of your portfolio?
Definitely. We haven't really done any projects together and it's nice – we've already got a few more things lined up that we can be doing in the future, so if we can use it as part of our degree show work as well, that would be cool. It'll be nice and I think, different, for people at the degree show to see something that's not been done on the computer, which I think a lot of our work can be.
So what sort of things have you got lined up?
We're working with a few local businesses at the moment, including a lovely café. We've also been offered the opportunity to do some live art at an event over summer, which should be a fun project. Hopefully that will help us fill out our portfolio, and we can just go from there.
Where do you want the company to be in five years time?
We definitely want to do it full time. I think it's quite hard to get a job in illustration that allows for a lot of creative freedom, so we want to work with businesses to keep our work practical but also fun and exciting. We definitely want to do more murals – we'd like to work with local businesses and maybe have some studio space in the city.
We've got a few networking things coming up over the summer. We'd also like to do workshops in the future; we think that would be really cool.
You can see more of Pickle Illustration's work on Instagram @pickleillustration. To get in touch with them, email pickleillustration@gmail.com