Bring the Paint comes to PA Housing
2019 - May, Latest news
If you visited Leicester City Centre over the Bank Holiday weekend you may have noticed it looking more colourful than usual.
This was due to the Bring The Paint festival arriving in Leicester for the second time. If you have not heard of it before, it is an International Street Art Festival that transforms urban areas with supreme quality, high impact street art. Over the Bank Holiday weekend the Cultural Quarter hosted live artworks, music, skateboarding, breakdancing, BMX and a range of creative activities and exhibitions.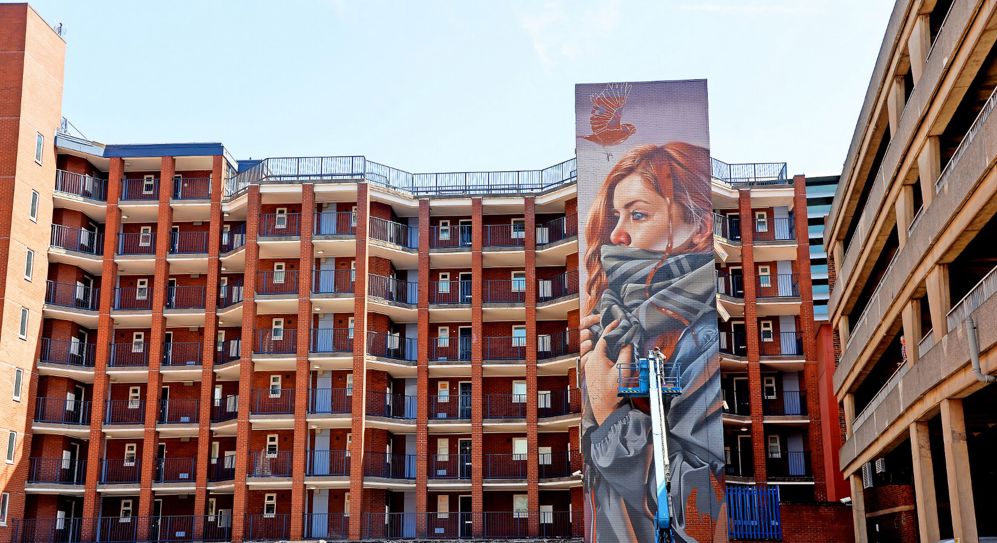 Last autumn the organisers of Bring The Paint approached PA Housing to ask if they could include Vestry House as part of this year's festival.
We couldn't wait to get involved in this project and to make Vestry House a focal point in the centre of Leicester. Customers living at Vestry House were involved from the very beginning and were just as excited about the plans as we were.  They were also given the opportunity to volunteer while the artwork was being done.
It's great to see this on the wall now and for Vestry House to have been chosen. It's so bright and colourful and makes such a difference to the area."

Vestry House resident
The project has been a huge success with positive stories both on social media and news programmes and has transformed a dull, drab wall in to bright, bold and fantastic piece of street art for the neighbourhood.  It's also been great to see Vestry House residents get so involved and have a reason to be proud of where they live.
Some of the other installations are the city also made quiet the impact - although we're probably bias in thinking ours is the best!
If you want to know more about Bring the Paint, visit their website: