We're on the shortlist for two 24 Diversity Awards!
2019 - March, Latest news
Happy Housing Diversity Day! If you head over to Twitter today, you might see the hashtag #housingdiversityday on your feed – today is the day that we champion the wide range of diversity that is seen in our sector, and discuss with our peers what more we can do to ensure diversity in housing.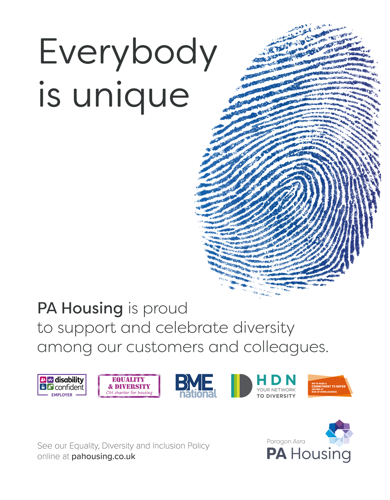 At PA Housing, we proudly hold up diversity as one of our priorities, both throughout our customer base and our workforce. We know there's always more work to be done on this important subject, but the recent implantation of our new Equality and Diversity Policy [link] indicates just how important fair representation is to us as an organisation.
So what better time to shout about our latest award nominations? We're delighted to confirm that we've been shortlisted for not one, but two of the titles at the upcoming 24Housing Diversity Awards. We're in the running for Leading BME Organisation and Best HR Policy.
The winners will be announced at the awards ceremony in Birmingham on Thursday 16 May, so – as ever – keep your fingers crossed for us until then. And don't forget to check out #HousingDiversityDay today on Twitter!
To find out more about our approach to Equality, Diversity and Inclusion click below: