My PA is a winner!
2019 - March, Latest news
Resident Katie Carroll had a pleasant surprise after she signed up for our online account manager My PA - she won our promotional competition and was presented with £250 worth of shopping vouchers.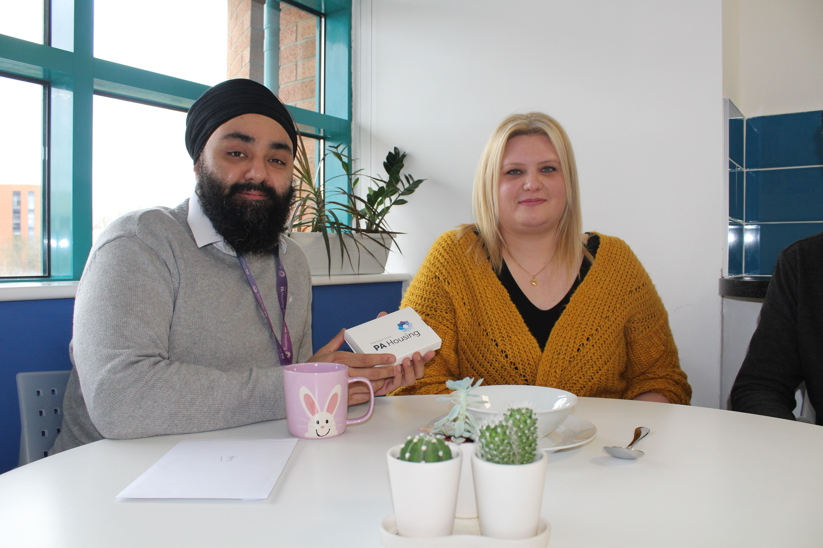 "I never win anything so I was really surprised," said Katie, from New Parks in Leicester. "I've no idea what I'm going to spend it on."
My PA is the quickest, easiest and cheapest way to manage your home online. It's available all day, every day, so you can contact us any time it's convenient for you.  No more waiting in phone queues.
You can check your rent balance; make payments or set up a Direct Debit; diagnose, report and monitor repairs; book appointments; report issues in communal areas and gardens; request new keys and fobs; report pests; and lots more.
Katie is already benefiting from it. "Someone told me about it when I phoned up to pay my rent.  I used to have to spend time at the weekends doing it, because I couldn't call from work.
The person on the phone said it would be easier for me if I signed up, so I decided to try it.   I was a bit nervous at first because I wasn't sure the money had gone through, but now I know it works I'll use it every time.  I'm going to try other things when I need them, too. It's been really easy."

Katie, Leicester customer
Signing up is simple and all the transactions are secure. You'll need an email address and your PA payment reference number.  Click on My PA Login and follow the instructions.  You'll get an email confirmation, then you can start using My PA straight away.
Don't miss out. Join the move to digital! Around 7,500  people are registered to use My PA and it's growing every day.