Delivering sacks of essentials to the homeless this Christmas
2019 - December, Latest news
Members of the PA Housing team were up bright and early on Monday morning (16 December) delivering rucksacks crammed full of essential items to homelessness services across Leicester.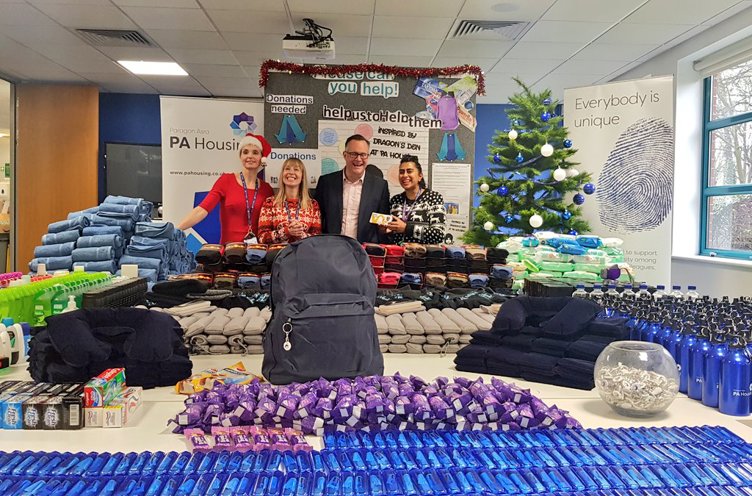 Employees at the Bede Island Road-based housing association have donated enough gloves, scarves, socks and toiletries to fill more than 160 rucksacks, with McDonald's Leicester providing food vouchers for every recipient.
The day began at 6.30am, with the team visiting the Breakfast Club at The Bridge Homelessness to Hope on Melton Street. By 8am, the volunteers had reached Number 5 project at Humberstone Gate, and at 1pm, their busy morning ended at the YASC day centre on Conduit Street.
The three volunteers who organised the project were Vanita Chavda, Floating Sheltered Tenancy Officer at PA Housing, Kelly Morley, Sheltered Tenancy Officer, and Leigh Robinson, Independent Living Tenancy Officer.
In the run up to Christmas, we wanted to do something to help the people we see on the streets in Leicester every single day,"

Vanita Chavda

"We have great relationships with homelessness services across our city, so we reached out to them with our idea of a 'reverse advent calendar', which would involve our colleagues bringing donations into the office during the countdown to Christmas. The rucksacks will hopefully help those who are homeless to live a little more comfortably throughout the festive season and beyond."
Simon Hatchman, Executive Director of Resources at PA Housing, added: "Well done to everyone who contributed to this project.