Giving back to the neighbourhoods we serve
2021 - February, Latest news
Pupils at a Leicester primary school have benefitted from more than 30 devices donated by ICT team at PA Housing.
Naveed Amin, ICT Service Delivery Manager and Deana Clarke, Neighbourhoods on Tour Coordinator delivered 24 laptops and 9 iPads to Cosby Primary School last week, to help children struggling to access online home learning during the COVID-19 pandemic.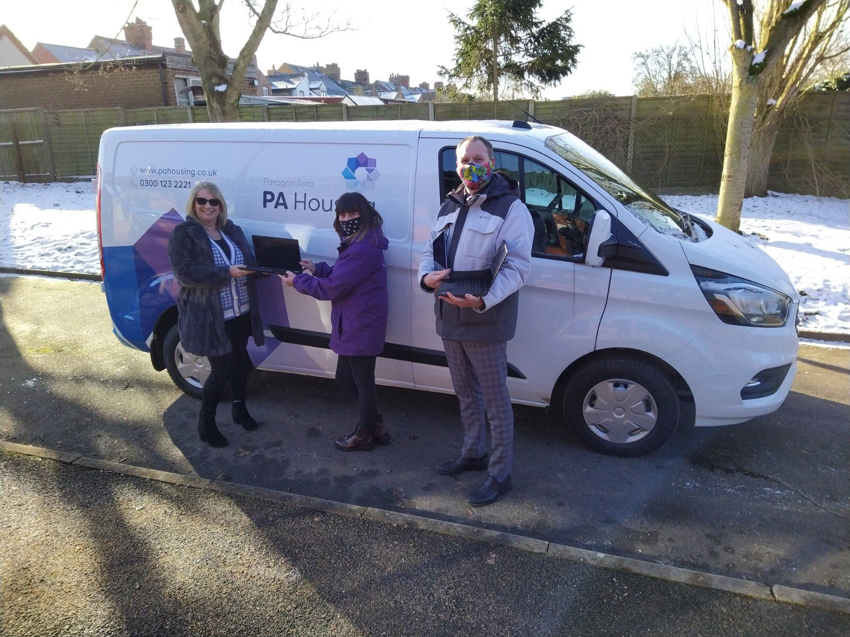 When schools closed their doors to all but the most vulnerable children and those with key worker parents at the beginning of the year, the UK's communications regulator Ofcom estimated that between 1.1 million and 1.8 million children do not have access to a laptop, desktop, or tablet at home.
Dilip Kavi, Chief Executive of PA Housing said,
On a daily basis, the team here at PA Housing work to support Leicester residents who are struggling because of the pandemic. They know how much pressure home-schooling is placing on parents, and how important it is for those who currently do not have a device at home to be able to access lessons and keep up with their education. This donation was lined up by our IT team. They took the initiative and started something we now hope to continue. We will endeavour to provide more equipment to different schools to help support young learners through this current crisis."
Tracy Withers, Headteacher at Cosby Primary School, said:
I would like to say a huge thank you to the team at PA Housing for their generous donation of laptops and iPads for the pupils at Cosby Primary School. Home learning can be a real challenge for families with multiple school age children and limited devices or where children are relying on a mobile phone to access the online learning. Such a kind gesture will enable us to help many more of our families with the provision of a device to use at home, something that we could not have done without your help. Thank you from us all!"
Thank you to the team at PA Housing for making this happen, and we wish the pupils at Cosby Primary School the very best with their studies.